Old Band-Bred in 2010. Inbred Phantom/Fieneke. Dam to AU 13 Tule 70-4th Champion Bird Combine. 2nd/95b/424mi; 3rd/192b/441mi; 4th/151b/335mi; 3rd/178b/248mi; 5th/158b/269mi; 7th/192b/341mi; 23rd/160b/306mi. Also, bred "272 & 273"-great racers in Spring Break OLR. Nest sister also great racer. Dam to many other exceptional flyers & breeders.
Ms. Ohio (Mussolini/Janssen/Meulemans/Mortvedt)
Dam to several club and combine winners & "Singh 339" -7th @147m, 82nd @ 206m, & 14th @ 359m after being missing on 250m & 300m races @ '16 Spring Break 300 OLR.  She is full sis. to "AU 11 LFO 0509"-3rd COC Futurity & "au 11 LFO 0510"-2nd MVS Futurity, losing 1st by 6 secs.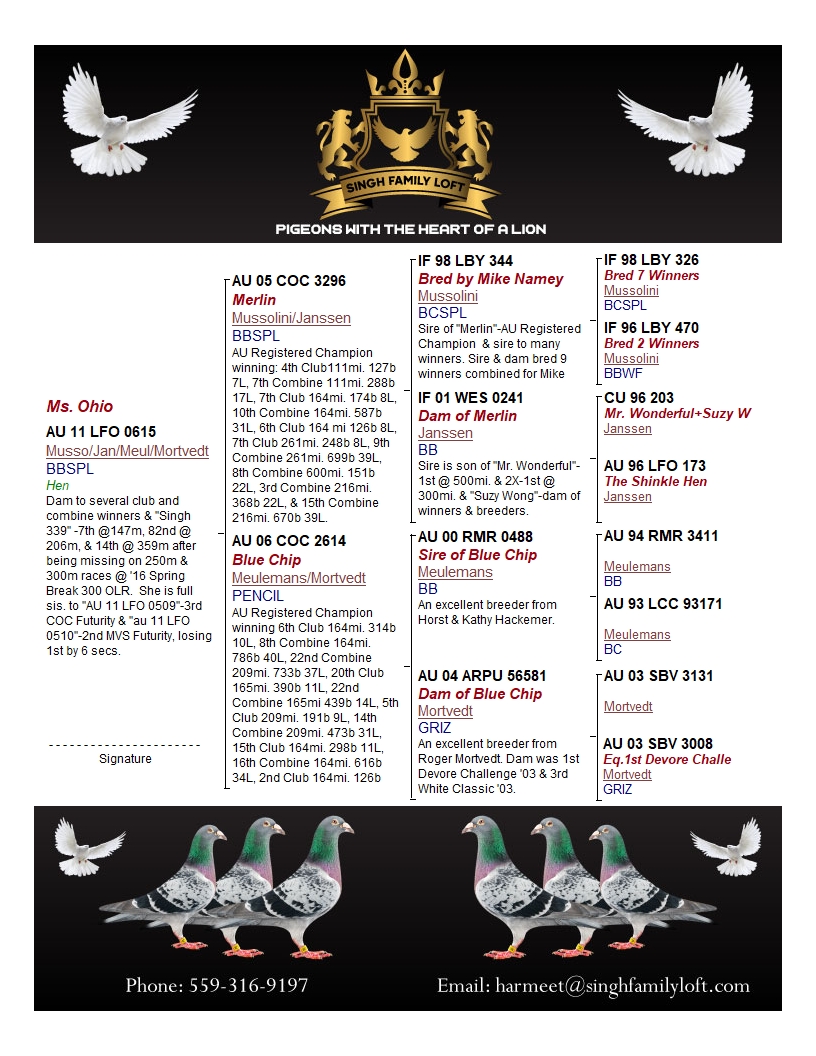 Super Breeder (Tilson/Baldwin: Janssen/Van Dyck/Van Loon/Hofken)
Super breeder! Dam of Sunshine Champion Bird, "Kansas"-O.A. Champion Bird Kansas Praire by 2hrs, & "763-Empire"-4th Champion Bird vs 675b Empire Classic OLR.  Sis. eq. 1st (2) @ 250m NC OLR w/ only 2 day birds.
Ms. India (Houben/Thone/Janssen)
Super breeder! Dam & gr.am to many winners! She placed 14th & top 10% @ 441m, 52nd @ 400m, 40th & top 20% @ 350m, 74th @ 320m, 42nd & top 20% @ 283m, & 52nd @ 195m  in '14 OB's.  Dam to several top 10% and 20% in club & combine.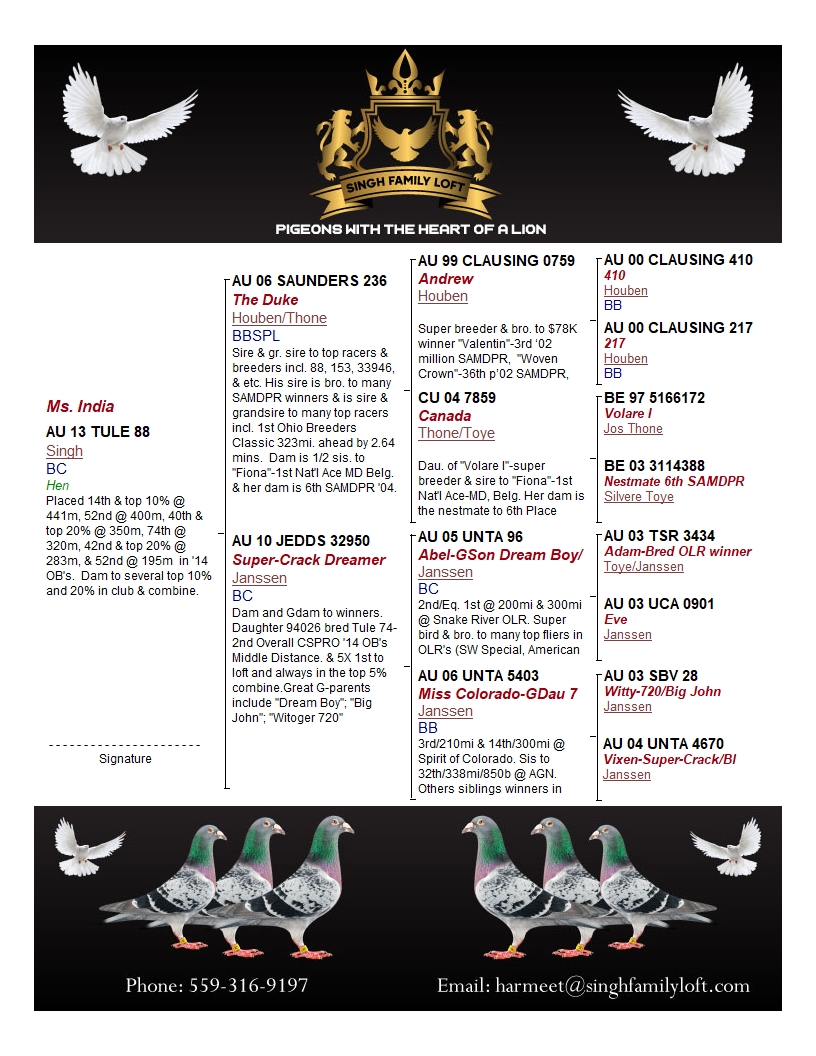 Ms. Fiesty (Houben/Janssen)
Sire is #1 producing son of Clausing's "410" X "217" at NFL. He has produced 7+ excellent OLR performers. Dam produced 3 children that won 11 top 10 dips for 3 lofts in her 1st year breeding.  This fiesty hen has bred 4 super racer in '16 YB's.  Bred many good racers and her children are turning out to be prepotent breeders.
Million Dollar Baby (Demko: Gyselbrecht/Rossens/Stichelbaut)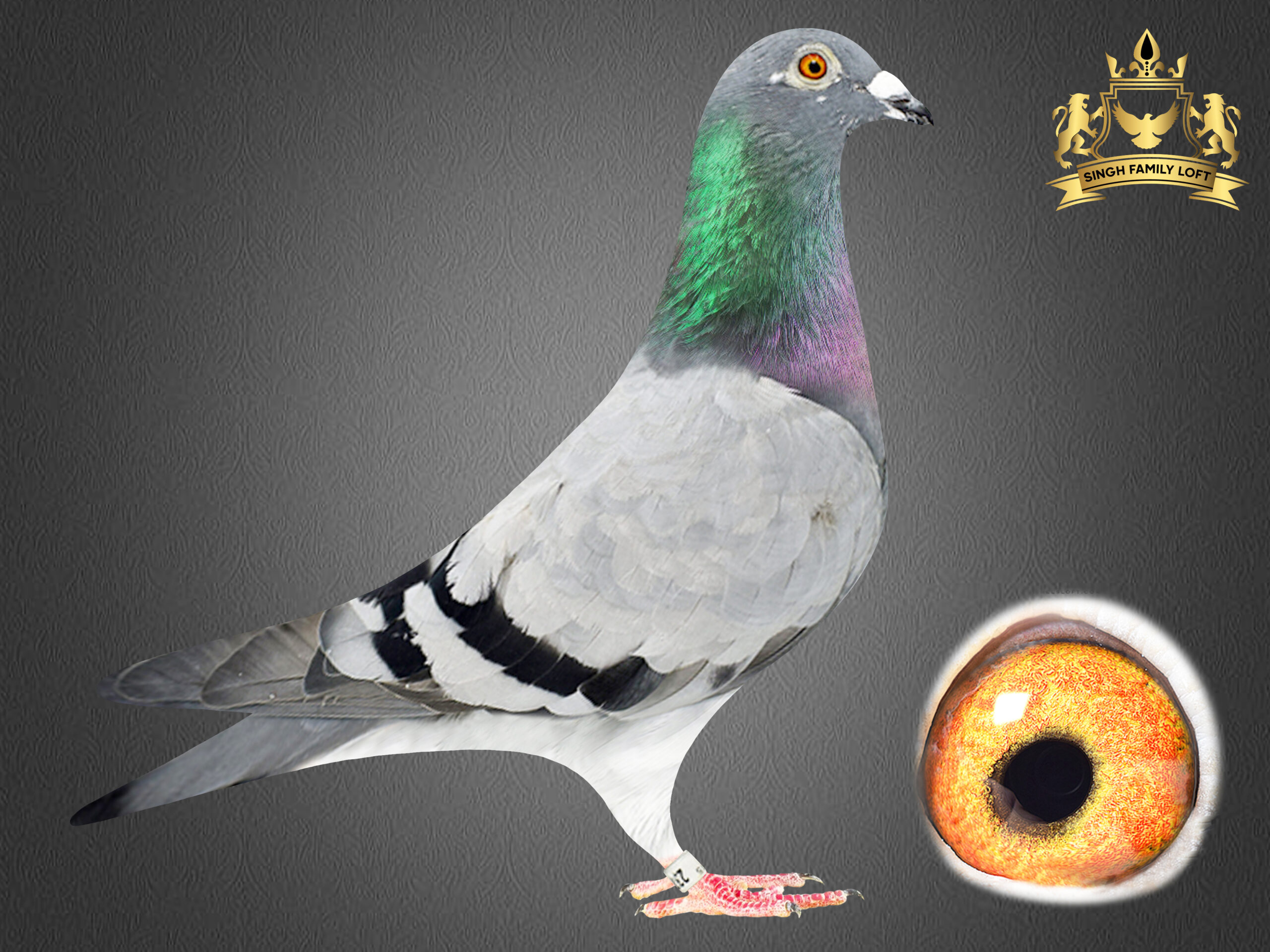 Super breeder! One of her inbred gr.son's bred winners with 3 different hens. She placed 129th 336m vs 2,161bds in 2016 SAMDPR.  Full sis. to 97th World in the final 2014 SAMDPR and 44th World in the final 2015 SAMDPR. Parents siblings bred "2363"-14th 336m, 1st USA Grand Avg., 1st N. America, & 5th Grand Avg; "LaureaatCahor 3"-won 2X $1100 in HSCRs & 225th Final SAMDPR in 2015. Gr.Dtr. of Super Breeder "Blue Cahors 54"-son of "Cahors"-1/2 bro. to "Laureaat Barcelona"-1st Int'l Barcelona vs 20,209 pigeons in '95 & Gr.Grf to 1st Barcelona '03 vs 20,209bds, 9th & 118th Barcelon '03 vs 13,659bds. "2373" won $1500 and was bought for $770.  "2306" won $1500 & was bought for $900;  "2363" won $7500 & was sold for $7,230; 2362 was sold for $1010.  This mating is 1/2 Gyselbrecht + 1/2 Marc Roosens from Leernes, Belgium. Marc Roosens was 3 times the best loft in Belgium.  The Vanbruaene-Gyselbrecht pigeons are largely responsible for 6 – 1st International Barcelona wins averaging about 20,000 pigeons per race – no other pigeon bloodline in the world's history of racing pigeons, past or present, can come even close to that feat.
Lady 192 (Gaby V./Janssen/De Saer: Miss Nikki)
Flew 10th @ 95m, 17th @ 237m, 6th @ 320m, 8th @ 320m, 13th @ 503m, & 24th @ 503m. Dam's side is from the lines of "Little Miss Nikki"-SAMDPR winner. Now a proven breeder!

Ticket Out (Singh: Houben/Thone/Dijkstra/Koopman/Sablon)
Super nice hen kept for stock. Small/medium hen with pearl eyes with great movement, tight vents, short forearm, great throat, soft feathers, & supple muscles. She is a top perch hen that just might be the next foundation breeder.  Will breed in 2022 for sure.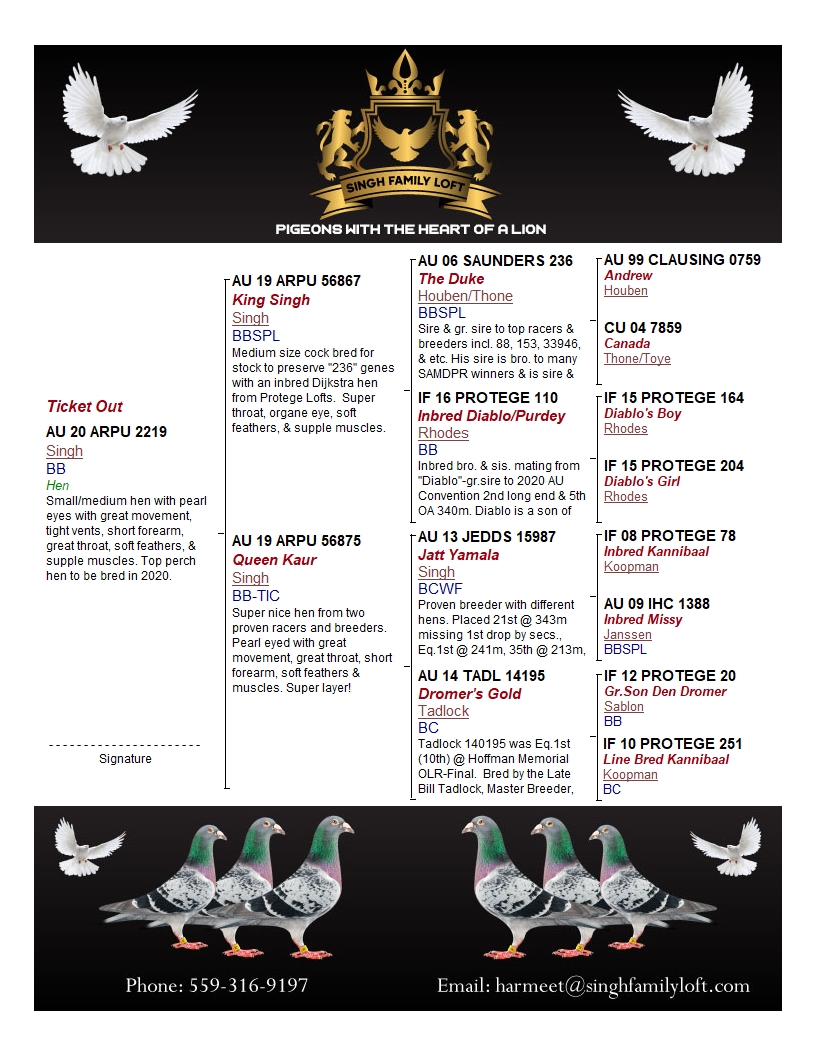 Southern Doodle (Norman/Sablonm/Klaas)
Placed 53rd (Top 3.4%; 26 mins behin1st @ 1622ypm, fast race 1st @ 1742ypm) @ 351m vs 1572b winning $3000 w/. over 4600b starting the series  & Aunt 1096 bred "1217"  scored 90th & 32nd O.A Avg. Spd. @ 2020 Hoosier Classic MDR. 1st to clock from all entries bred by PNWC. Full bro. "1213" won 2nd O.A Avg. Spd. scoring 83rd @ 158, 44th @ 206m, 19th @ 250m, 15th @ 309m, & 63rd @ 350m at Bluck Bucket 2020. "1236" also scored 1314 @ 150m, 1027 @ 180m, 962 @ 228m. "1236" from Pair J5 & "1217" from Pair J6. 
Sweet Sally (Norman/Ganus: Inbred Wolverine)
Super Super DNA Certified, LDHA AA, & nicest 2020 younster from parents!   Sire is inbred "Zorro"-gr.sire to "Wolverine" & "Aske"-dam to "Wolverine."  Dam dtr. of . "Wolverine" mated to "Mike Has A Very Good One"-dtr. of "Wolverine" mated to "Abagail"-dtr. of "Rocket" & "Mona Lisa." Inbred Wolverine (2X), Aske (4X), & Zorro (5X), Mona Lisa (1X), & Rocket (1X).
High End (Ganus/Norman/Sablon/Gyselbrecht)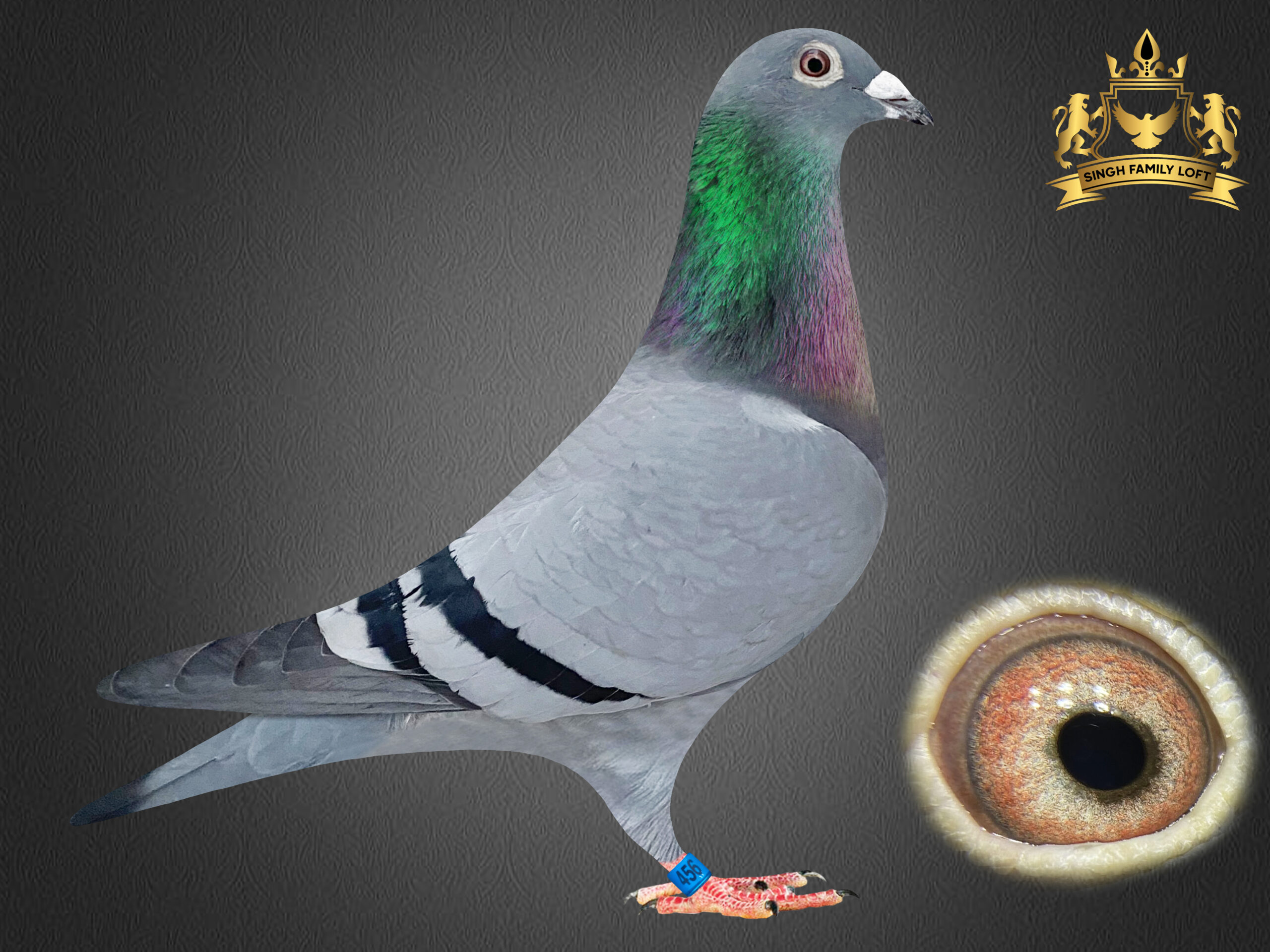 Won 73rd (top 4.6%; 33 mins behind 1st @ 1593ypm, fast race 1st @1742 ypm) @ 351m vs.1572b winning $3000 w/. over 4600b starting the series at 2020 Hoosier Classic Million Dollar Race. Was 1st to clock out of 20b sent by Holts Loft. Also scored 229th @ 150m, 1722 @ 150m, & 999 @ 228m. Tournier/Hofken/Norman/Janssen/Sablon x Rossens/Gyselbrecht/Norman/Hines

Bossin (Klass/Houben/DeVriendt)
Winner of 83rd final, 40th O.A Avg. Spd, & best bird in ladies classic scoring 2nd 150m, 24th 180m, 8th 220m, 6th 350m at Hoosier CMDPR '20. Scored 165th 150m, 925th 180m, & 391 228m.  Came with a note from the Hoosier stating she was bossy since the day she arrived.  Small & perfect in the hen with orange eyes, soft muscles & feathers, great throat.  
Diamond Girl (Ganus: Hebberecht/Mann/Verstraete)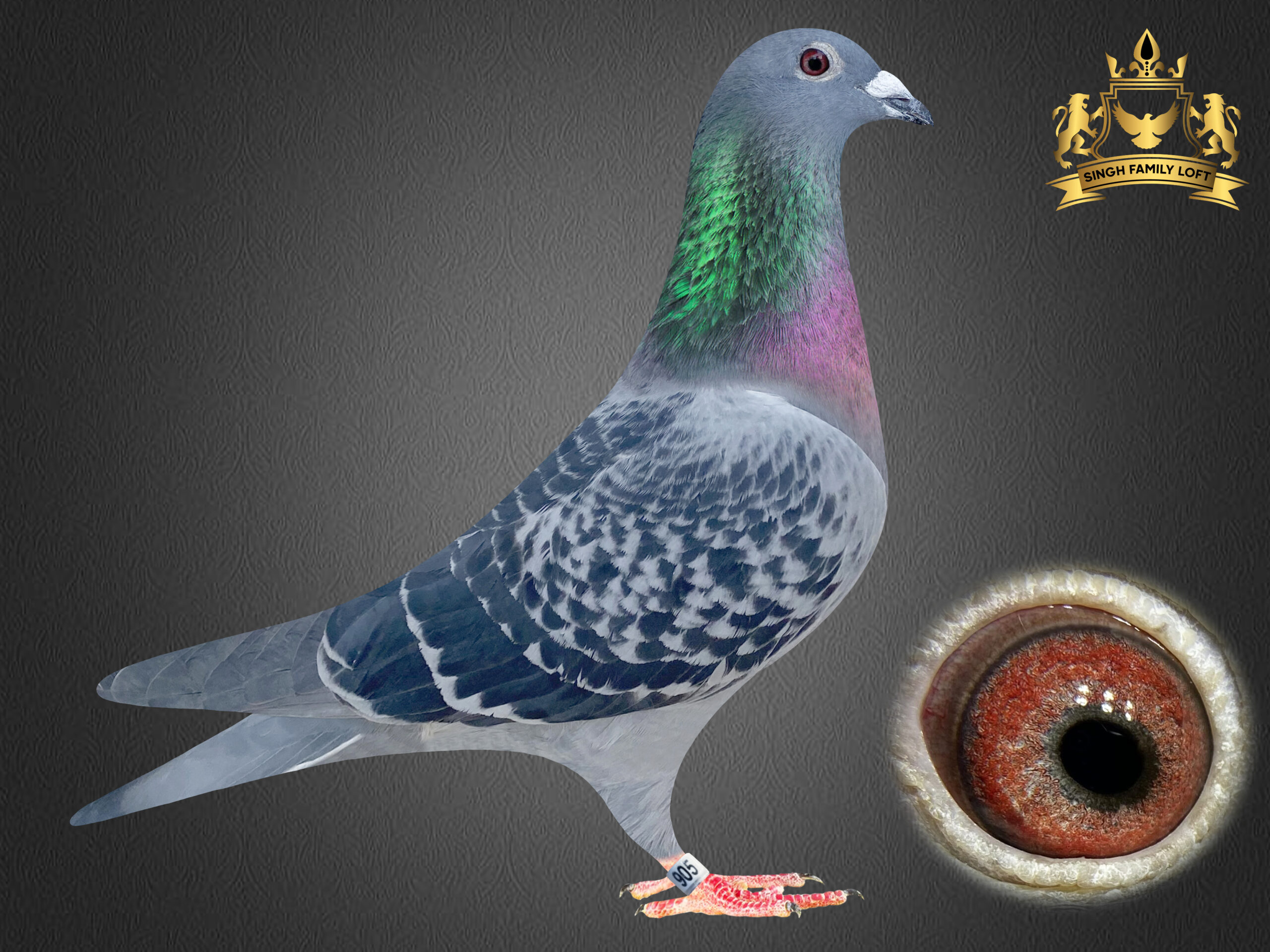 Won 4x-Eq.1st @ 125m, 177m, 228m, & 254m & also 13th O.A. Avg. Spd & 80th 327m (27 mins behind 1st) at Trappers Loop '21. Sire is off father to "Simply the Best"-1st Ace Pigeon Hoosier '16 winning $47,364 when mated to 5th Ace Pigeon Victoria Falls. Sis. to "Simply the Best"-bred "GFL 915"-eq.1st at 125m & 228m. "Simply The Best"-dam to Eq.1st (9th) 325m vs 281b at Final Royal Cup '19.

Eleven Grand (Singh: Ganus/Hebberecht/Koopman)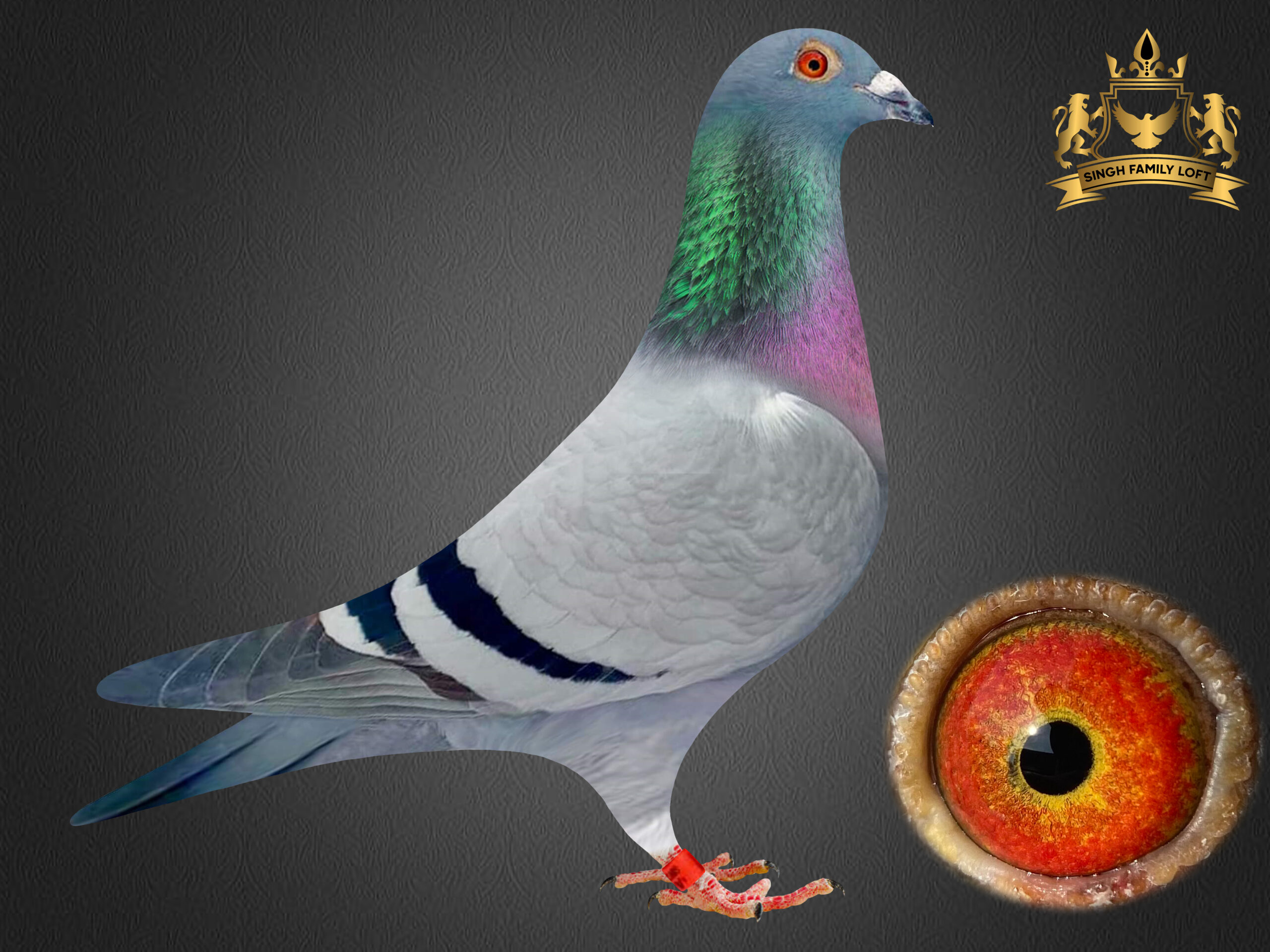 She placed 19th (Eq.1st-?) 315m vs 503b & 20th O.A. Avg. Spd. AGN '21, winning $2000.  She was one of the last ones sent to the AGN. Dam's bro. (her uncle) bred Eq.1st (17th; 51 secs behind) 115m Apple Cup '21 & a eq.1st 300m at Blue Bucket. "KE 336"-gr.sire to 1st 350m in an OLR in PA for Bob Herr on 11/07/21, in 2020 he bought an unbanded BBWF son of KE336.  Her mother was 5x-1st and was the 2nd bird in CSRPO & her sire was 1st 360m & 4th 463m the next week.  She will continue the winning legacy.