Super breeder! Sire and grandsire to countless winners for us & our customers. He bred 6 late hatches that raced phenomenally in 2014 OB's. AU 13 Tule 70 BC-H, was 6 times E1st to the loft, 4th Champion Bird Combine even without racing the last 2 races of the season. Sixer has bred winners with several different hens.
Full bro. to $78,500 SAMDPR Winners: "Valentin," "Woven Crown," & "Trouble" + 13-2002 for David Clausing.  He is sire and gr. sire to race winners. I believe he is one of a kind prepotent breeder like his father! Family greats include "Ziko"-Sire of "Dana" & "King David"-both 1/2 bros.  "1383"-full bro.  to "Queen Anna"-her dau. is "Anna Marie". Other include "Rapid," "Blue V.D. Velde" & etc.  Mr. Attitude is a super breeder! Sire and grandsire to countless winners for us and our customers.
Super breeder! Sire to 1st & 2nd Champion birds in the club & combine. 3x inbred to the "Phantom"-sire to "Mona Lisa"-greatest breeder for GFL that has produced countless winners and breeder of winners. Also, in the pedigree are "Fieneke's Little Girl," "The Dream," "Fieneke 5000," "Aske" & "Vegas Ace." A whopping $25,000 was offered & refused for the gr.sire "Phatom's Ace."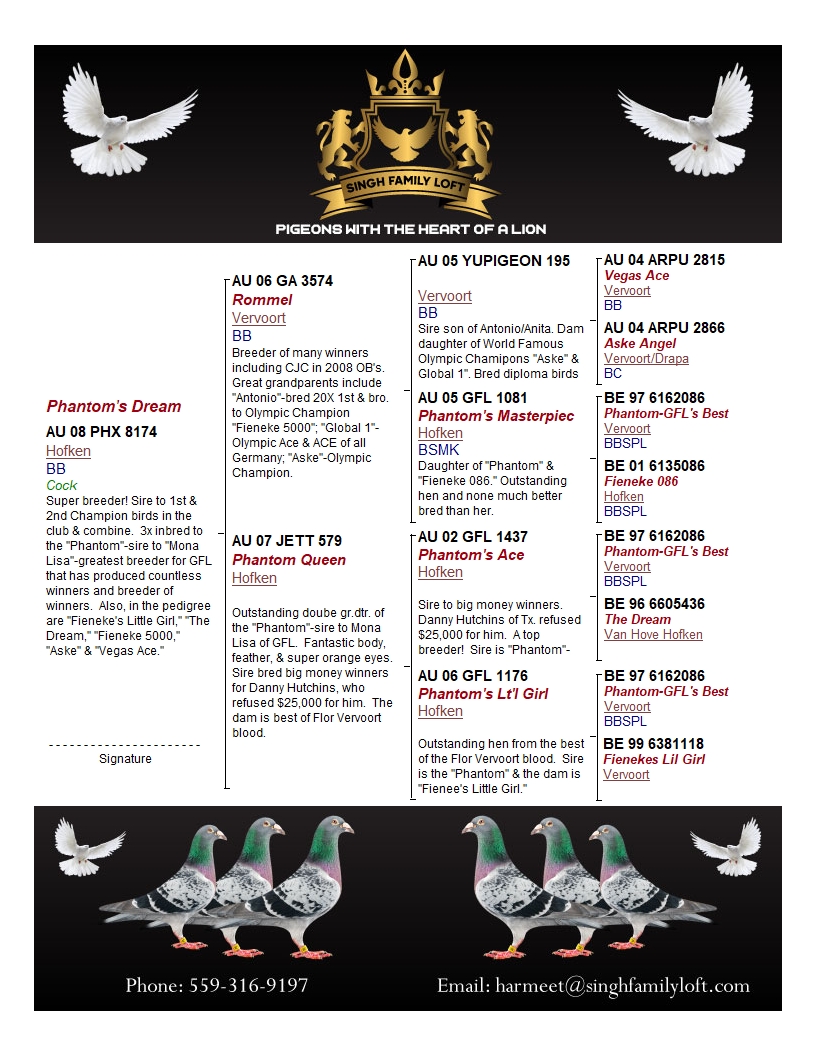 Superstar (Janssen/Kloeck/Hofken)
Once in a lifetime breeder. Sire to "89"-1st @ 600mi. flying 14hrs & 3mins on the day & winning Club by 31mins. & Combine by 26mins in '16 OB's. "737"-28th @ 150 mi., eq. 1st @ 200 mi., q.2nd @ 300 mi., and 8th Avg. Speed in the Spring Break 300 2011; "Lady Madras"-1st @ 600m from Madras, OR & 1 of 3 day birds beating the club by  31mins & combine by 26 mins.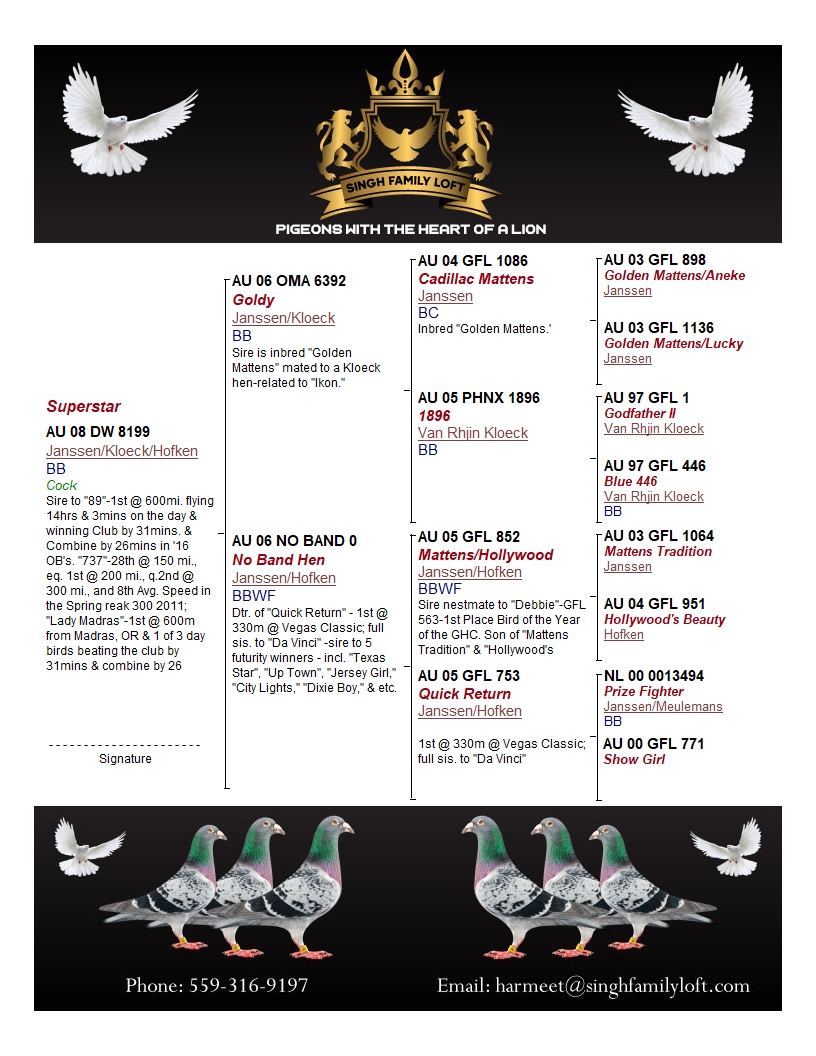 Mr. Marvelous (Janssen/Meulemans)
Super cock & he has bred the follwoing with 3 diff. hens: 1st @ 160m & 250m, ; 30th @ 309m  in '13;  1st @ 160m & 200m, & 9th @ 309m in '14; 27th @ 160m & 76th @ 200m in '15. Sire is inbred "Witoger 720." His dam side descends from pigeons of Emiel Van Hoof of Belgium whose pigeons were basically Meuleman and Janssen. Also, there is Steve Trampe blood in there via Jim Korinek.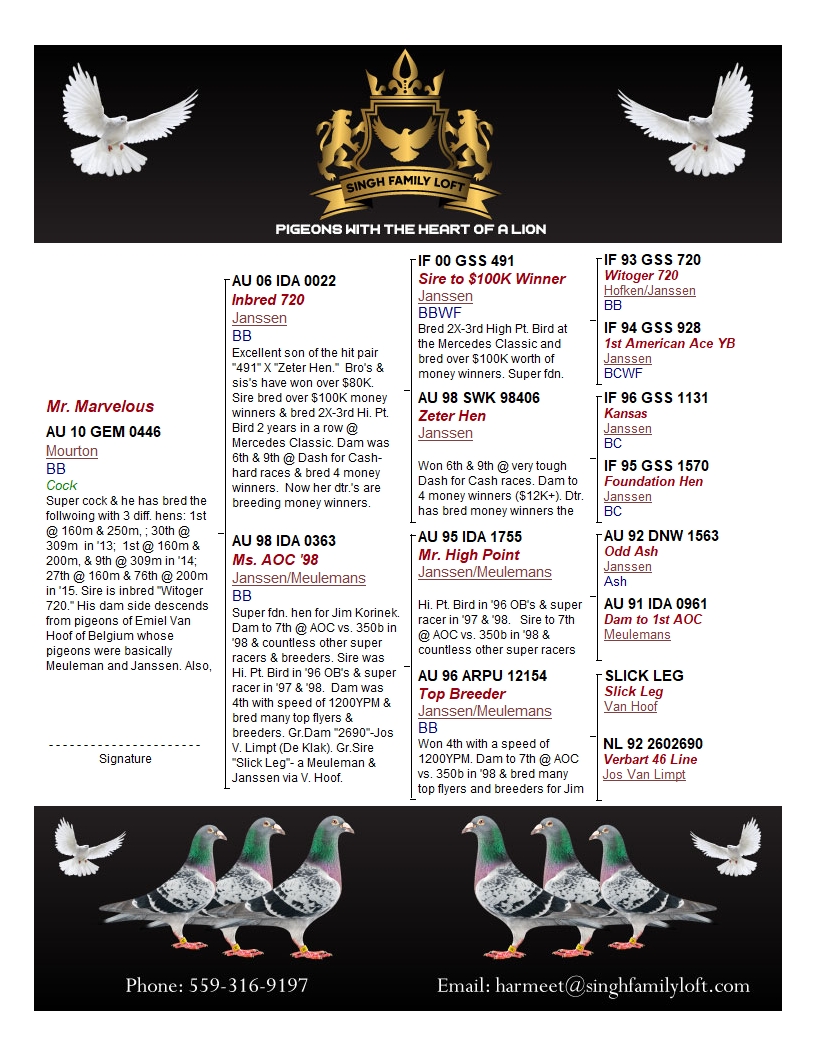 Singh's Retirement (Houben)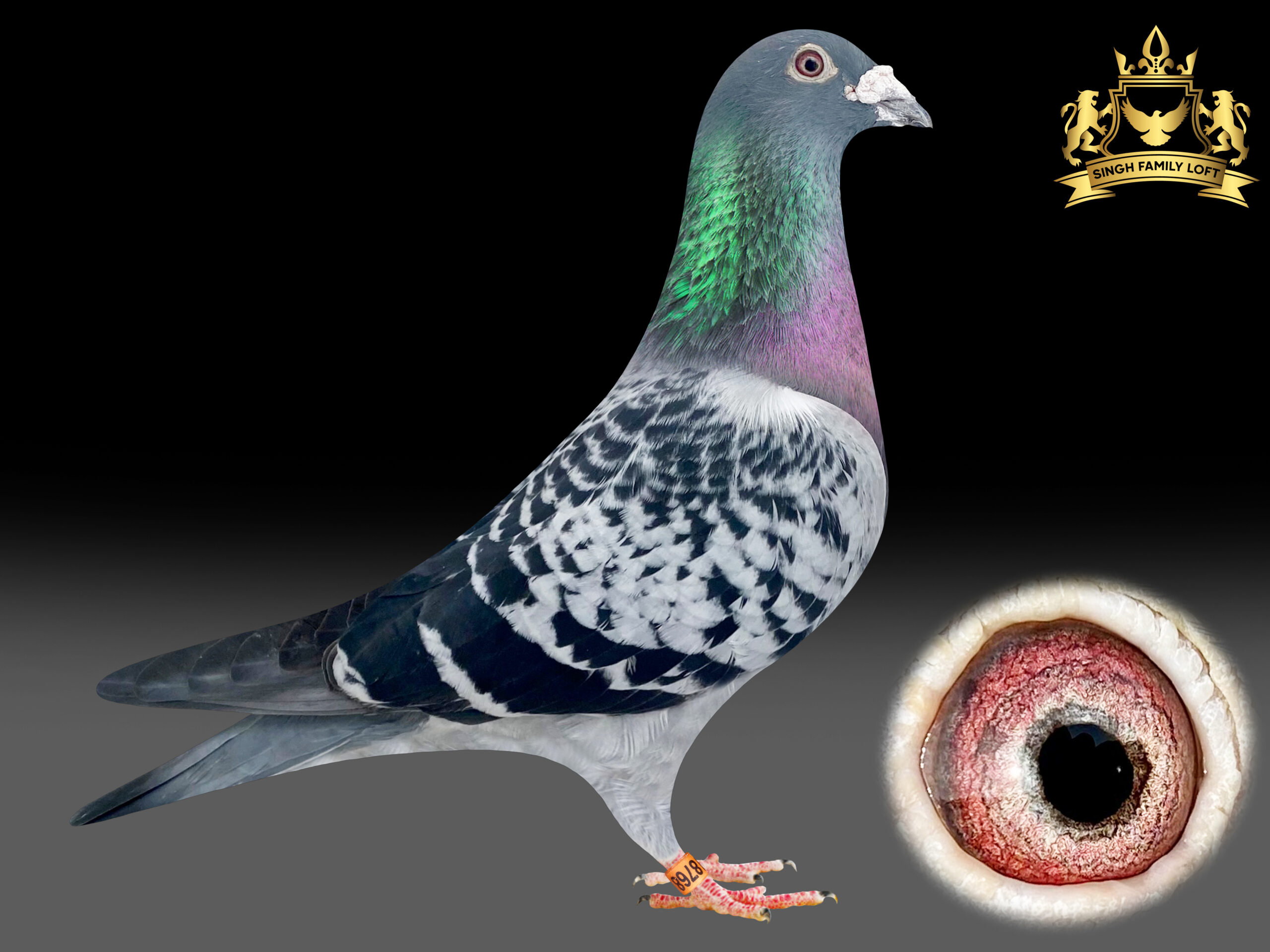 Super breeder! Bought as a YB.  Sire is linebred to the'93 IF Hall of Fame Champion & Breeder of Breeders "Early Retirement." Dam is inbred to "6074622"-mother of  '96 Combine Ace & Super Breeder "Dana."  Sire to many winners every year & one of the best Houben cocks in my loft. Still fertile as of 2021.
Crayonne (Kolvenbag: Koopman/Janssen/Grondelaers)
KE336 is father to "Tule 74"-2nd CSPRO '14 OB's, 5X 1st to Loft, & 28th AU HOF. Gr.sire to "3718"-1st 350m in PA OLR & "Singh 2111"-19th 315m vs 503b & 20th O.A Avg. Spd AGN '21. He is 1/2 brother to "Calori" 17th/250mi/402b @ WAC & dam to 98th SAMDR Hotspot 4 vs 3878b. 1/2 sibling to many other good racers & breeders on both sire & dam side. Grandsire to "2111-Eleven Grand"-placed 19th (Eq.1st-?) 315m vs 503b & 20th O.A. Avg. Spd. AGN '21. Dam's bro. bred Eq.1st (17th; 51 secs behind)115m Apple Cup '21 & also grandsire to 1st 350m OLR in PA for Bob Herr on 11/07/21. Just one of those super breeders!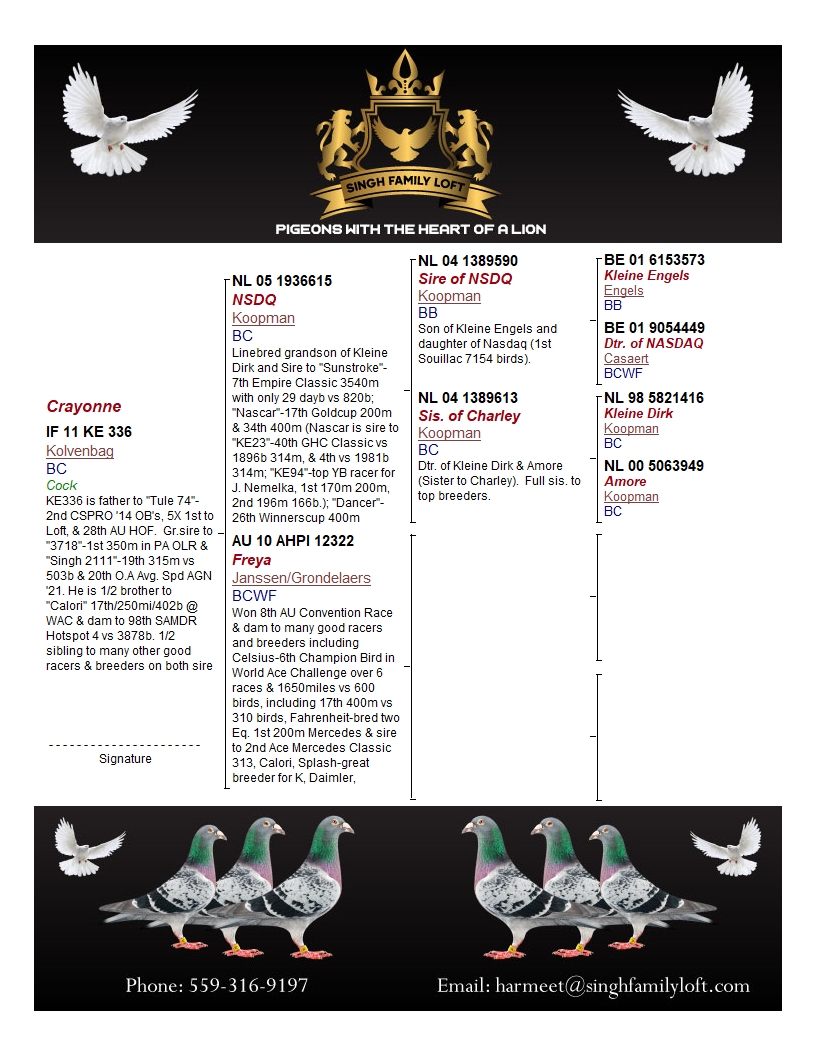 American Dream (Janssen/Klass/Houben)
Incredible breeding machine.  Sire & grandsire to winners.  Sire to 4th 200m, & 9th 150 N. America Breeders Cup, 13th 184m Word Series, 10th 203m, 4th 100m, 1st 168m, 7th 118m Double Barrel OLR.  1/2 bro. 1st 2x in S. Africa.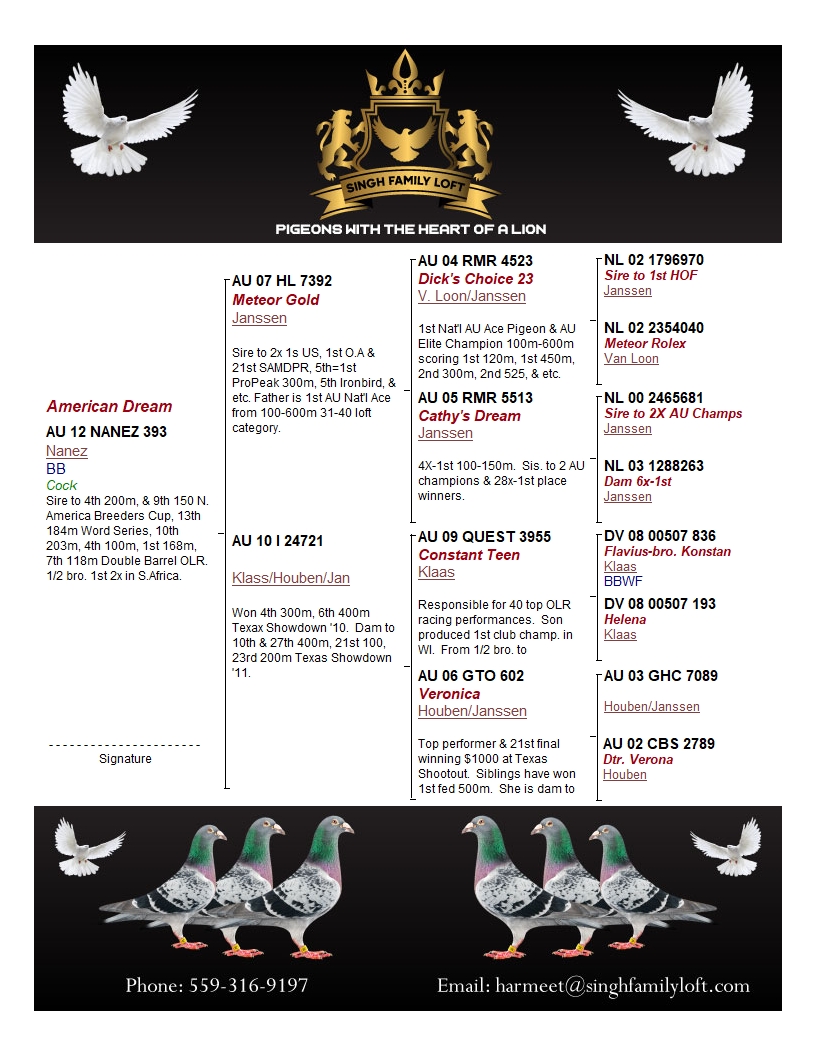 Pretty Boy AKA "The Don" (Van Osch Janssen)
Inbred 3x- "Ace 43"-Ace of Holland vs 55,000b. Bred by my late friend Don McGowen from parents to winner of 1st California State Racing Pipgeon Organizaton bird. Sire to "Singh 573"-great & consistent racer scoring in the top 10% several times, winning 1st loft (24th combine) 398m (1632 ypm). Proven super breeder!
Jatt Yamala (Koopman/Janssen)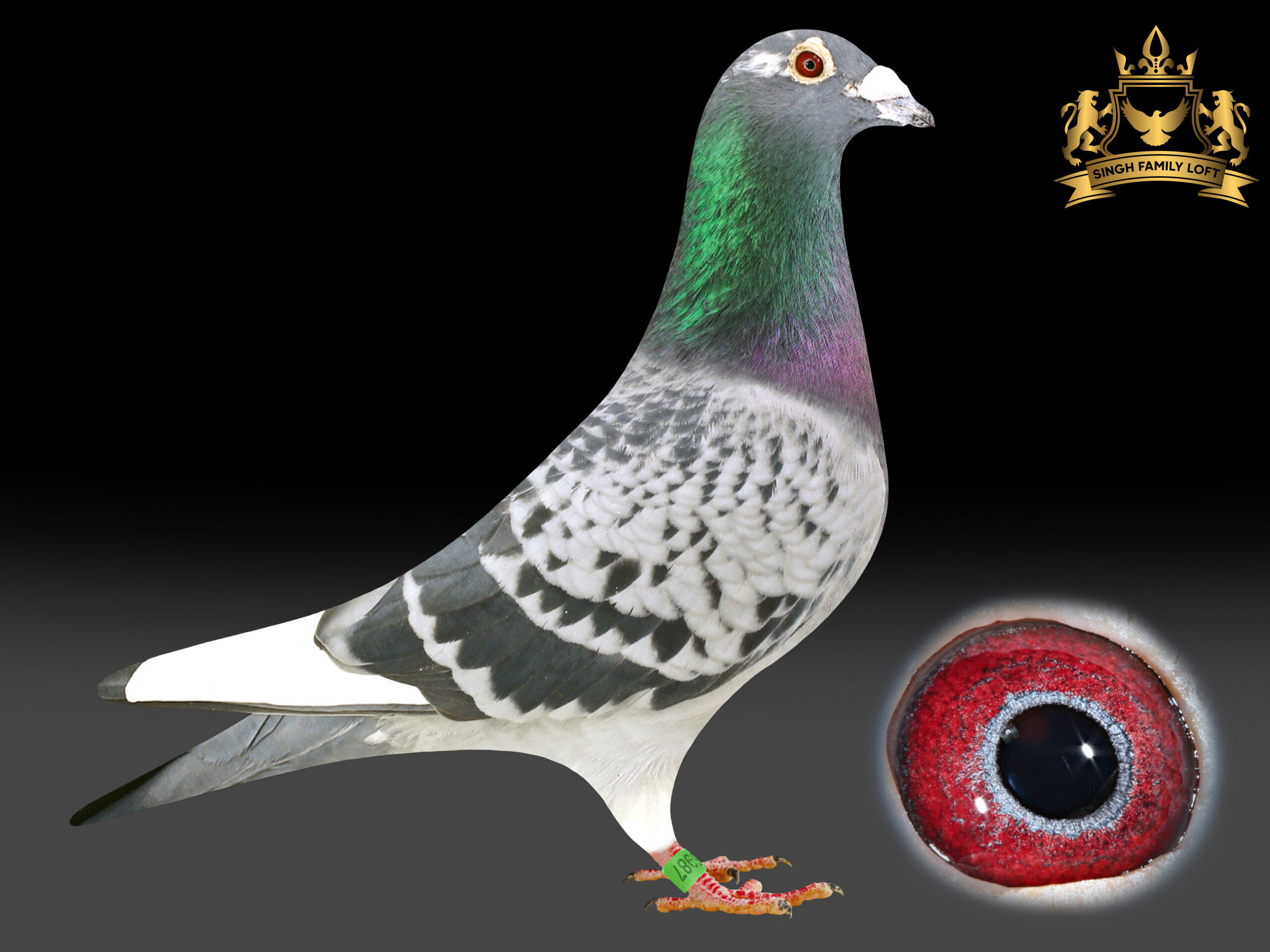 Proven breeder with different hens. Placed 21st @ 343m missing 1st drop by secs., Eq.1st @ 241m, 35th @ 213m, 23rd @ 158m, & 92nd @ 130m in '13. Sire to Eq.1st & diploma winners in club every year & bred 3 OLR winners. Sire is super inbred "Kannibaal" & son of "Kid Kannibaal" & "Kenny's Girl." Dam in inbred "Missy" (dtr. of "720") when she was mated to her own son.

Dark Knight (Fabry/Imbrecht/Van Dyck/Wijnands/Eijerkamp)
Sire to "Terraria"-158th in the Final '16 SAMDPR & "Basta"-250th in the Final '15 SAMDPR.  Prizer winners 2 yrs in a row with 2 different hens. He is perfect in everyway. Sire bred a 14th @ GCC '12 & one of his dtr.'s scored at the top of the Boston Concourse every week in '09 to '12 OB's.
Most Wanted (Gaston/Bosua/Sablon)
Won eq.1st 300m, 56th 350, 41st Avg. Spd vs 1450b & won $4200 AIC OLR '15.  Has bred winners for the last 5 yrs out to 370m, not bred in '20.  In '21 his dtr. "1047"-has scored 4x-eq.1st (130m, 154m, 228m, & 327m-final) & 14th O.A. Avg. Spd. at Trappers Loop Challenge. One is racing at AU Convention & another at GHC Classic OLR '21, both in Florida.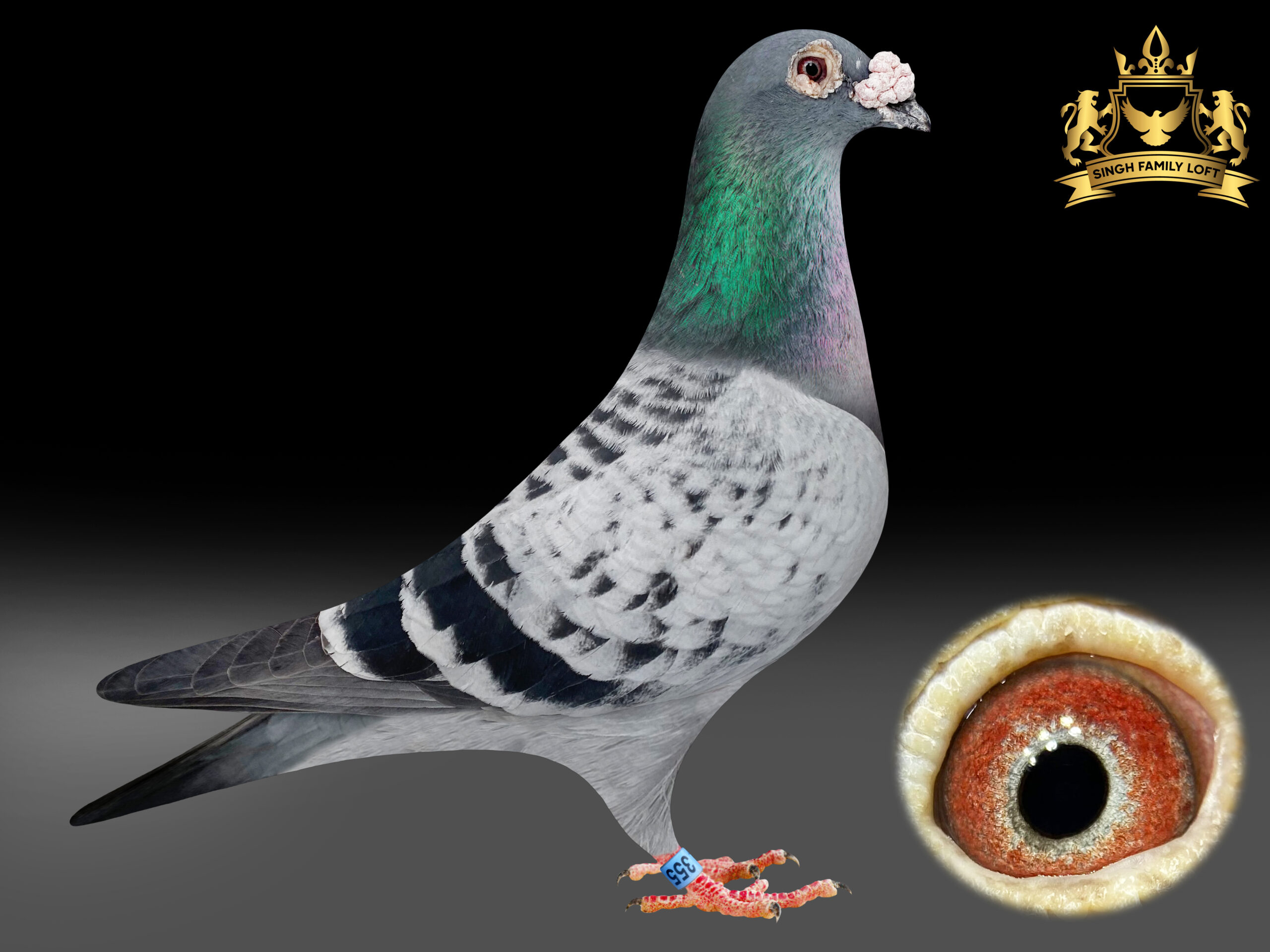 Super racer! He was 2nd=1st (0.6 secs behind) in club and combine 320m @ 1321 ypm.  Siblings have scored in OLR and at the club & combine upto 6000m.  Super nice medium cock with pearl eyes with lots of movment, buyont, short forearm, tight vents, lots of fight, soft feathers & supple muscles.  Now a proven breeder!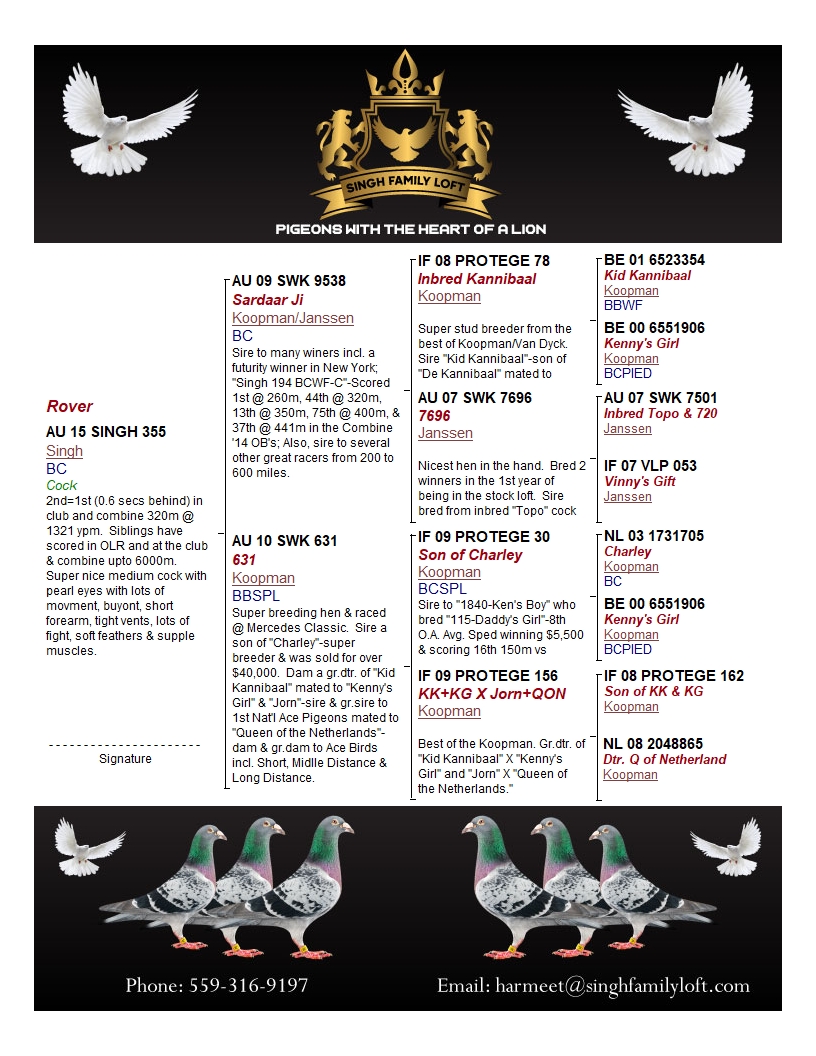 Million Dollar Magic (Demko: Rossens/Stichelbaut/Gyselbrecht)
Gr.sire to winners. An inbred gr.son bred winners with 3 different hens. Won 124th 336m vs 2,161bds in 2016 SAMDPR. Sis." 2363″-14th 336m, 1st USA Grand Avg., 1st N. America, & 5th Grand Avg; Sibling "2362"-401st 336m. World; Full sibling "LaureaatCahor 3"-won 2X $1100 in HSCRs & 225th Final SAMDPR in 2015. Gr.Son of Super Breeder "Blue Cahors 54"-son of "Cahors"-1/2 bro. to "Laureaat Barcelona"-1st Int'l Barcelona vs 20,209 pigeons in '95 & Gr.Grf to 1st Barcelona '03 vs 20,209bds, 9th & 118th Barcelon '03 vs 13,659bds. "2306" won $1500 & was bought for $900; "2363" won $7500 & was sold for $7,230; 2362 was sold for $1010. This mating is 1/2 Gyselbrecht + 1/2 Marc Roosens from Leernes, Belgium. Marc Roosens was 3 times the best loft in Belgium. The Vanbruaene-Gyselbrecht pigeons are largely responsible for 6 – 1st International Barcelona wins averaging about 20,000 pigeons per race – no other pigeon bloodline in the world's history of racing pigeons, past or present, can come even close to that feat.

Gabbar (Rhodes: Dijkstra/Hooymans)
Full bro. bred 2020 AU Convention 2nd Place long end & 5th OA 340m. Son of "Picasso"-won 20th @ WAC, his bro. won1st Int'l Semi-Final Wuhaishan, China, 1st OA Gr. Avg. SAMDPR, & Eq.1st (2nd) @ 300m OLR, & bred "Jonge Picasso" -Sire to 5 winners, 2nd, 4th, & 5th Ch. Birds in Combine 1st yr., & bred "Ms. AIC"-1st Ace, winning $39,540. Dam "Limbo Line"-winner of 6th OA Gr. Avg. in SAMDPR.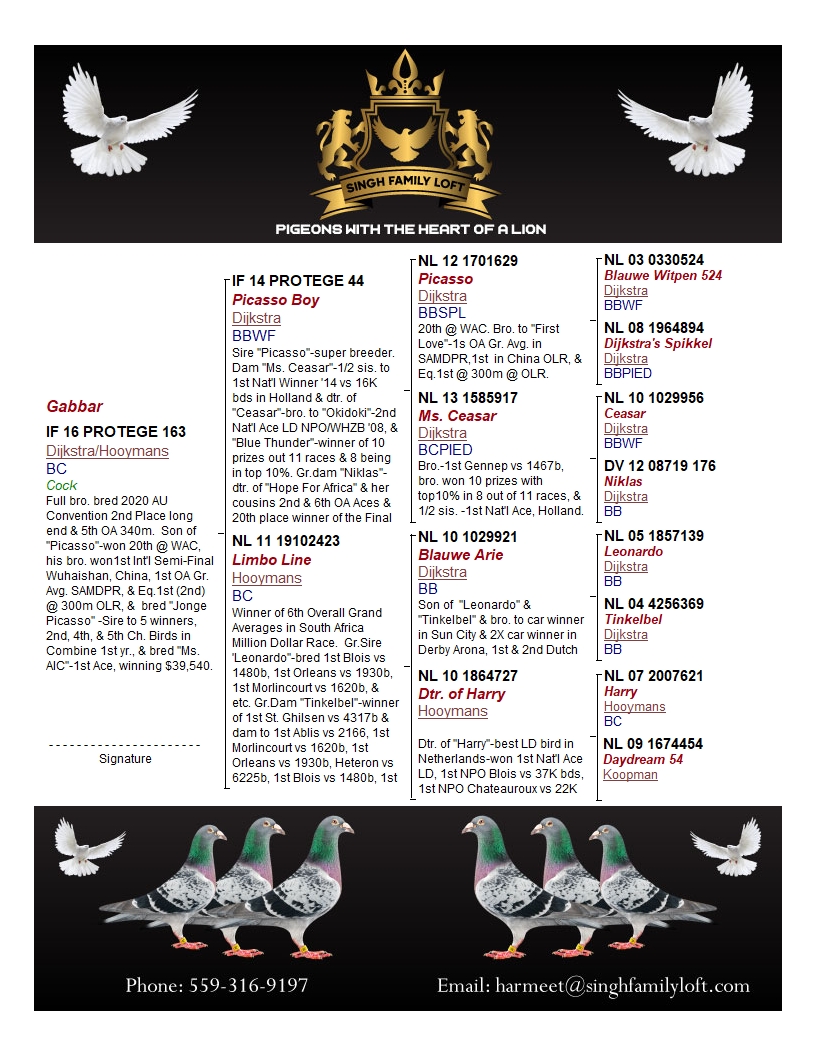 Legend (Janssen/Kloeck/Hofken)
Proven and the best inbred sons of "8199-Superstar." He will take his fathers place. Inbred from a father and daughter mating.  Sire bred "737"-eq.1st on all races except the 1st race at Spring Break OLR & "89"-1st 600m.  Dam "89"-won club by 32 mins and combine by 28mins from 600m flying 14hrs & 3 mins on the day.
Wolfman (Ganus/Norman: Wolverine/Abagail)
Super DNA Certified, LDHA AA, & Inbred Cock.   Sire son of "Wolverine" when he is mated back to his dtr. "Mike Has A Very Good One."  Dam dtr. of "Wolverine" mated to "Abagail"-dtr. of "Rocket" & "Mona Lisa." Inbred Wolverine (3X), Aske (2x), Mona Lisa (2X), & Rocket (2X). Can't get any better than Wolfman! 
The General (Ganus: Shootout, Shirocco, Halover, Wolverine, Mike Has A Very Good One)
DNA tested. LDHA: BB. Sire won 10th 344m vs 1615b in the very tuff & very competitive GHC Clasic OlR.  Dam won 1st 323m final by 9 mins vs 450b Southern Belle OLR '20.  "Shotgun" bred "Champs Pride"-9th Ace & her bro. was 39th Ace vs 2000 entries Victoria Falls '17. "Champ 917" bred "Hobo 11-Flash in the Sky"-Eq.1st (4th) 355m final vs 1203b winning $132,500 Hoosier '21 & his sire "GFL 96-Takedown" is bro. of "Shotgun" mated to "GFL 573-Fantasia"-nestmate to "Sweetie." "Takedown" also bred "Champ 80"-87th 358m vs 1203b Hoosier '21. "Fantasia" is gr.dam to "TBW 4"-top racer scoring 107th on final vs 1600b SAMDPR '20 & also Big Winner in the Royal Cup '20. "Champ 7-Sunshine" LDHA: BB-Aunt to "That's My Boy" clocked 6th 346m vs 1,430b GHC Classic '15 & her sis. was 8th 353m GSAF '15.  "Sunshine" also bred 4th final Winner Cup '17 & she is gr.dam to 21st 316m vs 585b Unit 10 Race '18.